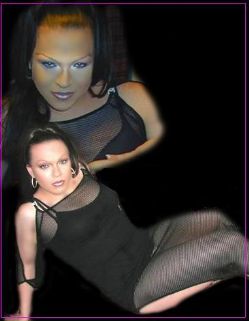 MEMBER PHOTO GALLERY
Dominique69 Has No Photo Gallery
LIFESTYLE FETISHES
Anal Sex
Cock & Ball Teasing
Crossdressing
Cum Play
Degradation
Dildos/Vibrators
Domination/Submission
Facials
Feminization
Foot Fetish
Gangbangs
Golden Showers
High Heels
Kissing
Lingerie
Master/Slave
Masturbation
Oral Sex
Panty Fetish
Pantyhose/Stockings
Rimming
Role Playing
Shemales
Sissification
Spanking/Paddling
Strap-Ons
Transexuals
Transgenders
Transsexuals
Transvestites

Hot T-girl seeking LTR!
STANDARD MEMBER
I AM A: 28 year old Shemale, Transgender, Escorts, Transexual, Transsexual from Dallas, TX
SEEKING: Long Term Relationship, Phone Pal, One Night Stand, Anything & Everything
WITH A: Shemale, Transexual, Man, Escorts, Transgender,
Active during the past 3 days
ABOUT ME
I AM A 27 YEAR OLD TRANSSEXUAL CURRENTLY RESIDING IN DALLAS,TEXAS.I AM A THICK GURL , NOT FAT OR OBESE JUST THICK. IM 5'11'' 190 38A 34 38 . I WAS BORN WITH A RARE HEART CONDITION, (COMPLETE TRANSPOSITION OF THE GREATER VESSELS), SO THEREFORE I CAN NOT TAKE HORMONES ANYMORE . I TRIED IT BUT I ENDED UP IN THE HOSPITAL HAVING PRECURSORS TO A STROKE SO MY DOCTOR RECOMENDED THAT I STOP BECAUSE DUE TO THE SERIOUSNESS OF MY HEART CONDITION IF I CONTONIUED IT COULD KILL ME. sO NO I DONT HAVE BIG TITS OR ANYTHING , I HAVE TO GET BREAST IMPLANTS FOR THAT AND ONE DAY I WILL . I AM JUST LOOKING FOR A GUY THAT CAN LOVE ME ACCEPT ME FOR ME , SO IF THATS YOU , MESSSAGE ME BACK GUYS!
MY IDEAL PERSON
hI GUYS ARE YOU THE ONE FOR ME ?? IM LOOKING FOR AN ATTRACTIVE MAN THAT KNOWS WHAT HE WANTS IN LIFE. sOMEONE WITH GOALS,DREAMS, AND AMBITION!! IF YOU HAVE YOUR CAREER STARTED THEN THATS PERFECT , I DO PREFER GENEROUS MEN WHO DO NOT MIND PAMPERING THEIR GI
PERSONAL INFORMATION
| | | |
| --- | --- | --- |
| Gender: | Shemale, Transgender, Escorts, Transexual, Transsexual | |
| Sexual Orientation: | Gay | |
| Height: | 5 feet 11 inches | |
| Weight: | 181 to 190 lbs | |
| Race: | Caucasian | |
| Body Type: | A Few Extra Pounds | |
| Hair Color: | Brown | |
| Hair Length: | Medium | |
| Body Hair: | Shaved | |
| Facial Hair: | None | |
| Eye Color: | Blue | |
| Eye Correction: | Glasses | |
| Body Decorations: | Earrings | |
| Smoking Habits: | I Smoke Occasionally | |
| Drinking Habits: | Prefer Not To Say | |
| Drug Habits: | I Do Not Do Illegal Drugs | |
| Marital Status: | Single | |
| Occupation: | Other | |
| Education: | Some College | |
| Political Views: | Liberal | |
| Religion: | Protestant | |
| Endowment: | Long | |
| Circumcised: | Yes | |
| Cup Size: | n/a | |
| Role Type: | Dominant | |